Your Step-by-Step Guide to Build a Virtual Classroom
In order to build a virtual classroom, trainers need a checklist of the best practices to do, its design, what virtual classroom tools to use, and how to manage it.
For better engagement and productivity, online tutors are often advised to use a mix of resources, audiovisual tools, and exercises. This makes the virtual classroom more exciting for learners.
To motivate learners, online tutors are also encouraged to give them regular exams. This drives learners to study harder and be on constant alert for any updates.
Besides, to make lessons more interesting, it's recommended that they make sure face-to-face learning is achieved. It's a key step towards meaningful education. Moreover, it makes the online course more comfortable.
This way, learners feel they are in a natural place where they can learn and develop with no restrictions and, at the same time, connect to their tutor and colleagues as well.
If you've tried online courses before, you know that is not something anyone can accomplish. So if your virtual classroom software can do this, you're good to go!
In this blog post, we will share with you a step-by-step guide to build a virtual classroom.
read also Best way to Create a Learner Centered Virtual Classroom
Virtual Classroom Design
It's not easy to get your head around online courses and designing a good virtual classroom. First of all, it's necessary to evaluate your requirements for the class and your learners' needs.
Most importantly, as the video advises, "research shows that students retain more knowledge when they've actively engaged with materials." So pick the best online courses system that prevents students from becoming passive observers.
In order to choose the right virtual classroom software for both sides, this is what you have to decide first.
read also Can Virtual Classroom Really Facilitate Learning?
What Do You Need to build a Virtual Classroom?
Decide the teaching techniques best suitable for your virtual classroom
Plan your online course sessions around those techniques
A fully functioning mobile device (or tablet or laptop)
Tools to help share any resources with your learners
A strong virtual classroom system that will be able to host you
Make sure it provides all the learning tools important for your teaching methods as well as your learners' needs; online learning technology is different than conference meetings. So you need to check if it supports learning activities and all they need
Best practices for Virtual Classroom Design
Here are some important tips on how to create and build a virtual classroom for your learners:
1. Plan and Build a Virtual Classroom
In order to build a virtual classroom, you need to
Outline the learning goals
Detail the time taken for each class, how you will spend it (your teaching strategy), and the engaging activities you will participate in with your learners
Decide the means of examination to make sure your learners understood the online lessons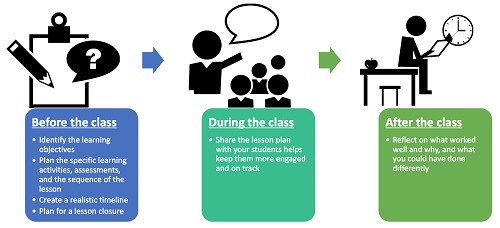 Credit: The Centre for Teaching Excellence
2. Start to Build a Virtual Classroom by Controlling it
If you are looking for ways to build a virtual classroom, you need to consider how you will control it. One of the most unique functions of a virtual classroom system is giving the trainer (tutor) control of the class. This is quite different from any other online conference meeting application.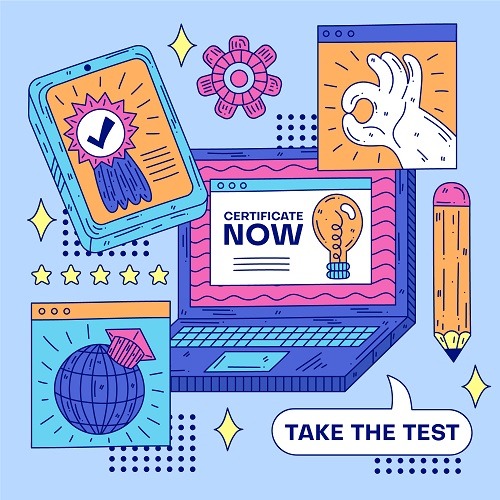 In any online conference meeting software, for example, the host has limited functions, most importantly sharing screen.
But a virtual classroom system allows you to do a lot more:
Share screen
Share files
Edit files online in front of your learners
Mute all learners so that learners can listen to your lesson with no interruption from anyone
Allow chosen persons to speak with they raise their hands
 3. Personalize Your Virtual Classroom, Use Whiteboard
Not everything has to be written beforehand. Seeing you writing on a whiteboard makes your online classroom feel more normal. And it's an advantage you get will you build a virtual classroom.
"Another aspect of the whiteboard appreciated by students and teachers is its capacity to help teachers deliver instruction in a variety of ways."

Teaching with the Interactive Whiteboard: An Engaging Way To Provide Instruction, by Hani Morgan
University of Southern Mississippi
It makes your learners feel less alienated. It gets them to feel they are not that far from you. Be interactive, use colors, and use your handwriting from time to time instead of just adding slides and showing them to your learners.
For example, you can utilize the whiteboard for many exercises and interactive games throughout the class. You can also use it to highlight certain ideas you want your learners to focus on. This makes your virtual classroom more engaging and exciting.
However, it's also important to use other visuals during your online course to deliver your message and keep the learners concentrated on the matter you're discussing.
4. Give Breaks
The best thing about a class is to have a break, right? Well, that's how a lot of learners operate anyway and not without reason!
Learners these days spend most of their time staring at their screens (laptops, mobile devices, tablets, TVs, or all of them on the same day!).
If it's a two-hour class or more allow your learners to give their brains a break to move around, refresh, or maybe even pray if it's time for their prayer.
5. Record Your Sessions
Last but not least, record your online lessons. As a tutor, you might find this quite beneficial. Recorded sessions may act like demos for freelance jobs, for example. Or you send a copy of them to learners who were absent and missed out on your virtual classroom.
Some tutors may be a bit hesitant towards recording their online classrooms due to security reasons. However, StorkyApp lets you, and only you, record your own lesson, choose who you share it with and who to not, and build a virtual classroom you're satisfied with! Subscribe NOW and give it a try.